Speed games, flexibility games, memory games and problem solving games.
Try out the online brain training programmes by
Lumosity
.
Try out brain teasers available free on the
SharpBrains
website.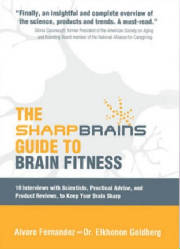 BRAIN BRIEFINGS
Research over the last decade has produced growing evidence that the adult human brain creates new neurons - a process called neurogenesis. Recent findings show that many of these new neurons integrate themselves into the working brain, suggesting the potential for a self-healing brain.